Introduction to the Internet and Web
Web page design with HTML and CSS
Client-side Programming with JavaScript,jScript,

AJAX

Introduction to Flash, Photoshop
MS FrontPage / Dream Weaver
More topics in web development
Server-side Programming with PHP ,MYSQL
Open source Applications (CMS/Blogs/Etc.)
Search Engine Optimization
E-commerce Implementation
Project Work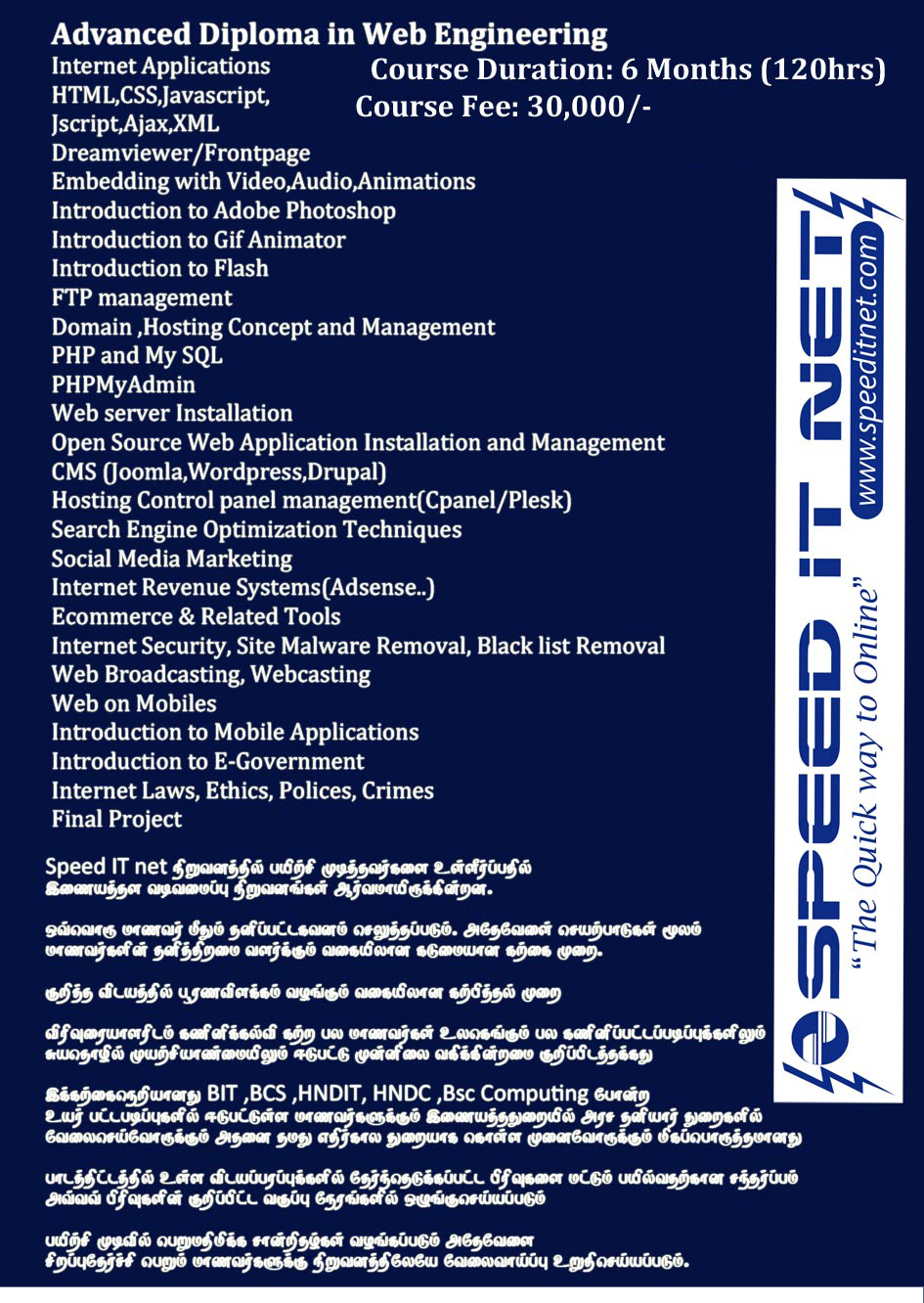 Android Mobile Application Development- Basic [Rs 10,000 ]
Understand the components comprising the Android Platform
Use various tools found in the Android Development Environment
Recognize the four fundamental components of Android applications
Work with the lifecycle of the Activity class
Create a simple Android application
Create applications comprising more than one Activity
Understand how to define and enforce permissions
Design applications that run on multiple, differently-sized devices
Define and deploy applications with sophisticated and elegant user interfaces.
in Detail
The Basics of Mobile Apps and App Design
Building Your First Mobile App
Introducing HTML5
Formatting HTML5 With CSS3
Scripting With JavaScript
Jump-Start Your App With jQuery Mobile
Accessing Device Features and Storage
Web APIs and Mashups
HTML5 Graphics and Animation
Optimizing for Mobile Devices
Maximizing Mobile Performance
Convert Your App to a Native App
Anroid Mobile Application Development- Advanced [ 30,000]

Threads, AsyncTask & Handlers
Networking
Display Tweet Data: Students build an app that downloads and displays Tweet data. The app uses an AsyncTask for downloading data over the network.
User Notifications
The BroadcastReceiver Class
Alarms
Tweet app: Students build an app that displays Twitter data. The app will use BroadcastReceivers and User Notifications to apprise the user of the app's behavior and state.
Graphics & Animation
Multi-touch & Gestures
MultiMedia
Bubble Popper: Students write an application to display and animate bubbles on the device's screen. When users touch the screen where a bubble is displayed, the bubble pops. The app will also accept gesture input, allowing the user to change the direction and speed of the bubble, using a fling gesture.
Sensors
Location & Maps
DataManagement
Place Badge Collector: Students build an application that uses location information to collect Badges for the places they visit.